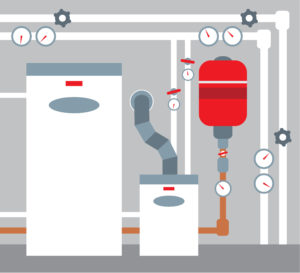 There is never a convenient time for your heating system to break down, especially during the winter time. The last thing you want to experience on a frigid morning is cranking up the temperature on your thermostat to only be met with silence – no noises from your heating system turning on, no heat coming through the radiators, and no warm air. Sometimes the issue is a simple clogged filter or an issue with the circuit breaker but other times you question whether it's more efficient to repair or replace your heating system. We know this can be an overwhelming decision, so we're here to help!
Consider the Lifespan of Your System
The typical heating system has a lifespan of 15-20 years. This number could be lower or even higher depending on whether the system receives regular maintenance or if parts have been replaced over the years. When you experience issues with your system, take its age into consideration to help weigh your options and whether it's a good time to replace your system.
A general rule of thumb is to consider replacing your system if it is three quarters of its way through its lifespan.
Cost of Repair versus Cost of Replacement
When deciding if you should repair or replace your heating system, cost should be one of the main factors in your decision and where your system is in its lifespan. Your technician will be able to give you costs for various replacement and repair options. These costs will vary depending on the type of system you have and the size of your home. It's not always worth it to repair a system that's nearing the end of its lifespan that will cost you $800 when replacing it is $2,000.
Consider Your Heating Plant's Efficiency
There is a large concern over high fuel costs and our carbon footprint, making it more important than ever to have a heating system that runs efficiently. Every heating plant has an Annual Fuel Utilization Efficiency number (AFUE), which measures the percentage of fuel that's converted to heat versus what is lost through the chimney or other inefficiencies in the home. The minimum AFUE is 80% so if your system is old, it could be burning less efficiently meaning your heating bills will be more expensive.
Whether you need to repair or replace your heating system, Boston Unique Indoor Comfort is here to provide valuable feedback and fast service! Give us a call today at (781) 933-7878.