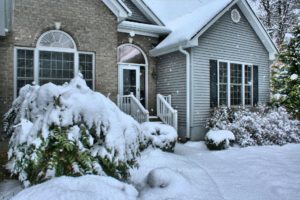 With winter right around the corner, winter storm warnings are approaching quickly. With strong winds, ice, and snow, it's important to be prepare your home and heating system to help prevent the loss of heat and keep the cold air out.
Keep yourself and your loved ones safe and warm this winter with these tips:
Make an appointment for a furnace tune-up before winter starts
Use your ceiling fan to disperse heat throughout your home
Clear your outdoor HVAC units of snow and ice for better air flow
Close the doors to rooms that are not being used to conserve heat
Place draft stoppers or towels at the base of doors leading to basements, attics, and the outdoors to keep the cold air out and the warm air in
Stay off the roads during winter storms when possible to avoid an accident
Cover outdoor faucets to keep the cold air and ice out of pipes
If you have drafty windows, use a window covering to stop the cold air from leaking into your home
To avoid issues with your furnace and hot water heater not working this winter, call Boston Unique Indoor Comfort for a maintenance appointment today at (781) 933-7878.